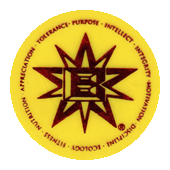 FREE* SUNSAVER OFFER!

Get a FREE Battlestar®
Sunsaver Goodluck Charm
when you learn P.I.I.M.D.E.F.N.A.T.
the secret Code Of Honor
and become a
Battlestar Superhero!

To get your FREE Sunsaver
follow the 3 steps below:

Step #1- On your right, click
on the Battlestar Superhero
Trainer to practice
learning the secret
Intergalactic Code Of Honor.

Step #2 - When you're ready,
take and pass the superhero
quiz on your right. You will
get a coupon code word
at the end of the quiz.

Step #3 - Enter your coupon
code word at the
cyberstore check out.
Battlestar Entertainment, Inc.
will send you a
FREE* Sunsaver
Goodluck Charm!
Just like the one
in the comic book and
on the TV Show.

* Does not include $1 postage and handling.